Wednesday, December 05 2018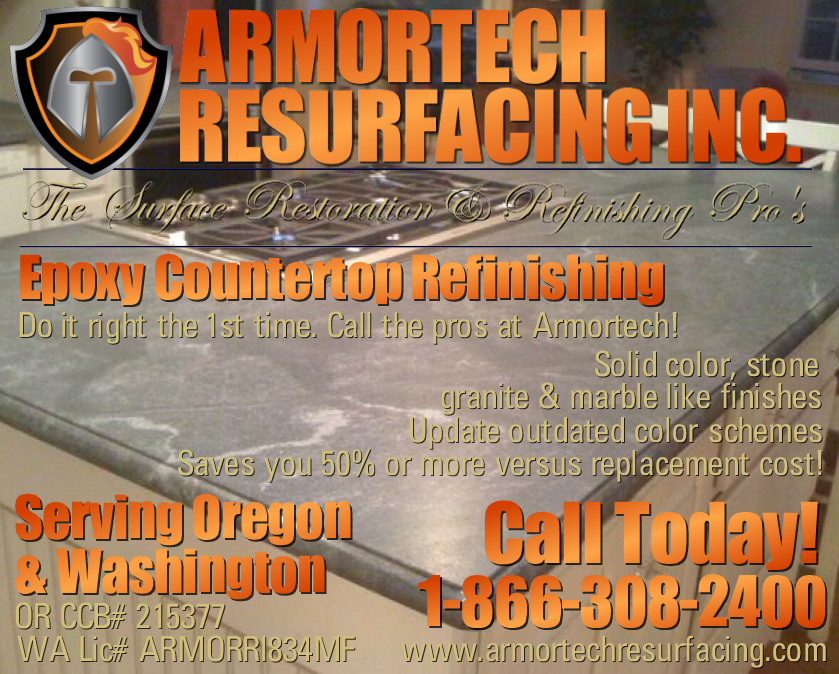 Are the countertops in your home, rental property, or commercial facility beginning to show their age? Countertops made from cultured marble, ceramic tile, Formica, and other types of laminates have been popular for decades. However, color and design trends change often and before you realize it your home, or rental units can become dated looking, hard to rent, and in need of a facelift.

The good news is all of these surfaces can be refinished in as little as one day, with a modern solid color, or beautiful stone, granite, or marble like finish. Even if your existing countertops are chipped, cracked, or have burn marks, the skilled refinishers at Armortech can repair and resurface them with a brand new, durable, and modern looking surface that will fit beautifully into your updated décor. And, we can do it for only a fraction of the cost of traditional countertop removal and replacement.
Call the countertop refinishing pros at Armortech Resurfacing, today to schedule a free no-obligatoion quote. The Northwests trusted countertop refinishing contractor, serving Oregon & Washington.

THE BEST SERVICE - THE BEST PRICING- THE BEST QUALITY
OREGON: (503) 791-8780
WASHINGTON: (360) 225-1488
TOLL FREE: 1-866-308-2400

OR CCB# 215377
WA LIC# ARMORRI834MF