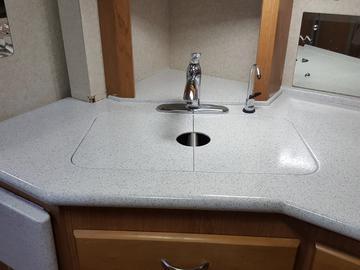 Lake Oswego, Oregon... The other day we got a call from a distressed RV owner. He was selling his RV and had told the new buyer he would have the old and damaged Corian style countertops repaired before the sale finalized. Unfortunately, he had been unable to find anyone to do the repairs. Until he called Armortech. After giving an estimate over the phone based on pictures the client had texted over, and after choosing a color (Misty Gray) from our Stone Accent line we arranged a time to do the repairs the following day. The corian counter had a lot of damage with large cracks running across the front of the sink (see the photos in the left hand column).

Although, it took the crew the better part of the day to complete the tight quarters project. The client was able to finalize his sale with his buyer as agreed. We love a happy client!
Watch the entire refinishing process in the video/slide show below:
Are the countertops in your RV, trailer, or mobile home showing their age and in need of a facelift? Call the countertop refinishing pros at Armortech today to schedule a free, no obligation estimate.
OREGON: (503) 791-8780
WASHINGTON: (360) 225-1488
TOLL FREE: 1-866-308-2400
FAX: (503) 741-8075
SERVING OREGON & WASHINGTON
OR CCB# 215377
WA LIC# ARMORRI834MF
WWW.ARMORTECHRESURFACING.COM